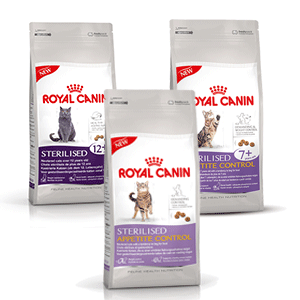 With the right diet and management, you can help address the changes brought about by neutering (sterilisation) in your cat, to help keep them slim and healthy.
ROYAL CANIN® were the first to recognise that neutered cats could benefit from a specific diet. And today we offer the most comprehensive choice to enable you to find the right diet for your neutered cat, whether from our dedicated Veterinary Care Nutrition range within veterinary practices, or our complete Sterilised programme available from specialist retailers.
Adapted moderate energy formulas with high protein levels help to preserve muscle mass and maintain a cat's healthy pre-neutering body weight. In addition, special fibres help cats feel fuller so they are less likely to return to their bowl so frequently. Diet can be adapted to help support the neutered cat's delicate urinary health too.
Discuss with your retailer or vet to choose the right neutered or sterilised diet for your cat based on their age and preferences. Choosing the right diet is just one part of the action plan though. Because dietary needs change straight away, it's a good idea to start the new diet before the op to allow a gradual transition.
You'll need to control rations strictly – follow the recommended daily quantities, even if feeding 'free access', and monitor your cat's body weight and condition closely, adjusting rations if necessary. Exercise is important too so provide plenty of opportunity to climb, jump and play.
If you are concerned that your cat is already overweight, speak to your veterinary practice for advice. In some cases a specific veterinary weight loss diet is needed to help support a healthy, controlled weight loss, as part of a weight management programme.