Here at Royal Canin, we've recently sponsored a guide dog puppy and we're excited to receive a visit at our head office today to see how Pudding is getting on!
Pudding – A Guide Dog in the Making!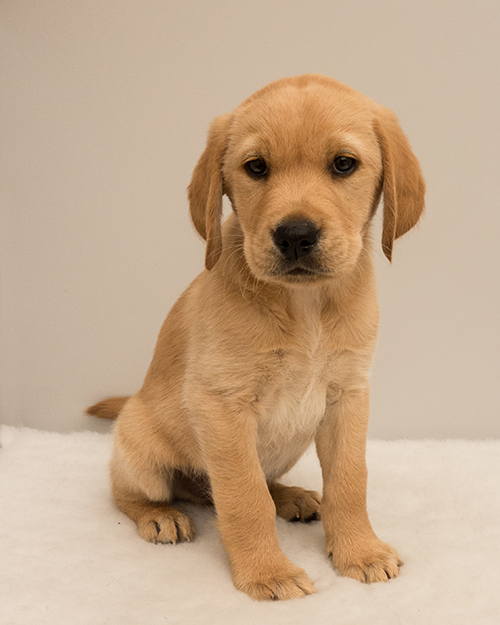 This is Pudding. He is currently living with his Puppy Walker, Diana, and is starting his training so that he can hopefully become a fully-fledged guide dog.
This means introducing Pudding to a variety of social situations and modes of transport. Pudding is doing well, Diana has informed us that Pudding was 'completely cool' and not at all by the noise and crowds of people at the local train station.
To make sure he encounters a variety of social environments, Pudding has been taken on visits to several DIY stores and a small, local supermarket. He's been coping well with all the sights and sounds, as well as the unsolicited attention from members of the public who are unable to resist giving him a fuss!
Living with other pets
Pudding shares his home with a number of other pets – including Diana's 'grumpy' 16-year-old-cat Leo. Thankfully, Leo has had to share his home with two other guide dog puppies so he is well accustomed to dealing with their over-excitement!
Pudding also lives with a rehomed guide dog called Usher, who has warmed to the puppy and is providing him with a good role model!
Guide dog training from a young age
Pudding is already learning to walk on a loose lead – he currently needs plenty of treats as encouragement, but he is making good progress.
Pigeons and seagulls are often a source of distraction for Pudding, but this is very normal for such a young puppy.
He is making good progression with basic obedience commands and has already learned 'sit' and 'down', and his recall is coming along as well! He is attending puppy training classes and is generally well behaved.
We'll be meeting Pudding again soon
We'll be sure to keep you updated on how Pudding is getting on, both on our blog and on our social media profiles – so keep an eye out for more 'pupdates' on this guide dog in training!
Sponsor a guide dog puppy
We love hearing about how Pudding is getting on – if you'd like to sponsor a guide dog puppy, so that you can receive your very own 'pupdates', visit Guide Dogs for the Blind and choose a puppy to support!