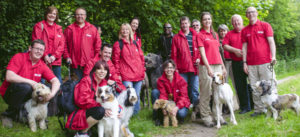 Petit Basset Griffon Vendeen Jilly (otherwise known as Crufts Best in Show winner 2013, CH Soletrader Peek a Boo) took owner Gavin Robertson and friends on a rather long walk recently – 130 miles in fact! Jilly is fed on ROYAL CANIN®, so the company wanted to not only support her and Gavin but also the charities which will benefit.
Jilly's Jolly Jaunt was Gavin's idea to raise £25,000 for Great Ormond Street Children's Hospital, DogLost and the Kennel Club Charitable Trust. Over 65 walkers and their dogs walked five miles each with Gavin and Jilly from the NEC in Birmingham along the Grand Union Canal to Great Ormond Street, dropping in at various locations along the way between Monday June 10 and Friday June 14.
The target was exceeded early on, and Gavin is now hoping to reach £40,000 by August 1st!
Among the walkers was Amelia Siddle, who won the Junior Warrant Finals at Crufts with pointer Flo (Sh Ch Wilchrimane Ice Maiden). A talented artist, Amelia also produced the artwork for the event.
As well as fundraising, Gavin also wanted to take the opportunity to promote healthy, happy dogs and showcase some of Britain's more vulnerable breeds. The Otterhound, Dandie Dinmont, Sealyham, and Skye, Welsh and Glen of Imal Terriers were just a few of the more unusual breeds stepping out, along with many others.
Commenting on the event, Gavin says: "What an amazing experience! I'd like to thank everyone who got involved, walking with us, sponsoring us and cheering us on when the feet were beginning to ache a bit. All the dogs loved it, and we were quite a sight every stage of the walk!"
ROYAL CANIN® support included a cash donation, supplying clothing for all the walkers, and providing the signwriting for Gavin's team's van. ROYAL CANIN® Breeder business manager Paddy Galvin says: "Jilly is a true champion, and going from Crufts Best In Show to a 130 mile walk just proves it! I think the owners found it harder work than the dogs, but it is a great achievement and we are delighted to have been involved in fundraising for such good causes."
Readers can donate to Jilly's Jolly Jaunt at http://uk.virginmoneygiving.com/Jillysjaunt.