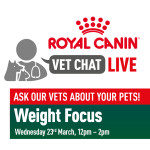 We are excited to announce that we are launching the very first of a series of LIVE chat room style sessions on Facebook with our very own Vets, where you can ask them questions relating to your cats and dogs nutrition.
The next session will be on Wednesday 25th May between 12pm and 2pm, hosted on the ROYAL CANIN® Facebook page.
MEET OUR VETS
Lee Danks MRCVS ROYAL CANIN® Veterinary Scientific Support Manager
After working in small animal practice both in Australia and the UK, Lee managed an independent vet group in London which grew from two to four sites during his stewardship.
Since 2010 Lee has held marketing and business support roles in the ROYAL CANIN® UK office and now provides technical support and helps circulate the company's nutritional know-how as part of the Scientific Communications team.
Catherine-Mary Howard MAcantab VetMB MRCVS, Veterinary Scientific Support Manager, ROYAL CANIN®
Catherine qualified as a vet from the University of Cambridge in 2007, after first completing a degree in Natural Sciences in 2004.
Before joining ROYAL CANIN® in 2010, Catherine worked in small animal first opinion veterinary practice in Gloucestershire.  She now works within the Scientific Communications department at ROYAL CANIN® and is closely involved with promoting pet owner knowledge and providing technical support.  Catherine owns an Australian Terrier dog called "Tinka" who is full of energy and affection!
Gudi Stuttard BVSc MRCVS, Veterinary Scientific Support Manager, ROYAL CANIN®
Gudi qualified from Bristol Veterinary School in 2003 and spent three years working in a mixed practice on the Somerset/Dorset border, primarily as a small animal vet.
She moved to ROYAL CANIN® in 2006 and discovered a passion for cat and dog nutrition. She now works within the Scientific Communications department and is closely involved with training, technical support and promoting pet owner knowledge.
She has two cats; Parker is a very affectionate but greedy black and white shorthair and Jinx is a beautiful, sleek grey and white shorthair who likes a quiet life and some occasional fuss. Gudi enjoys spending time at home with her family, including the cats, and talking about nutrition to anyone who will listen!
Please note that our area of expertise is cat and dog nutrition so we appreciate your questions relating to these two species only.
We are fully qualified vets and give daily (both general and very specific) advice relating to food and feeding.  While we may have a general view on other areas of veterinary care and practice, we appreciate that your vet is the best placed to give you specific advice.
Before major changes are made, please be sure to seek advice from your veterinary practice staff who have an active working knowledge of your pet, it's medical history and any investigations made into their health status.
We look forward to chatting with you on 25th May!