JOIN rvn, LAUREN FOR LIVE CHAT ON 13tH december!
Our very own Registered Vet Nurse, Lauren, will once again be available online to answer your questions about your cats and dogs on the ROYAL CANIN® Facebook page on Wednesday 13th December between 10.30am and 1.00pm. 
Following on from the successes of our previous live chat sessions, we are pleased to announce that our next one and the final one for this year will be on Wednesday 13th December.
Are you confused by the ROYAL CANIN® feeding guidelines?
Struggling to help your pet shed those last few kilos?
Confused as to which ROYAL CANIN® diet is the best diet for your pet and their needs?
Are you a vet or nurse needing nutritional advice for one of your clinics?
These are just some of the questions our Nutritional helpline receives on a regular basis, we are offering you the opportunity to get in touch and chat live with a Veterinary professional.
About Lauren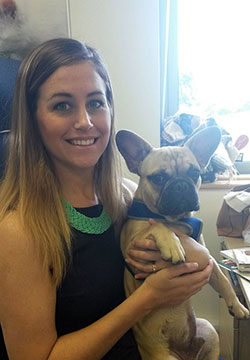 Lauren qualified as a Registered Veterinary Nurse in 2013, before joining Crown Pet Foods in 2015.
Lauren worked in a small animal first opinion practice in Somerset for 5 years where she completed her Veterinary Nurse training.  She now works on our dedicated nutritional helpline advising on our products and giving tailored nutritional advice.
Lauren has 2 dogs; Evie, a Parson Jack Russell and Hugo (pictured), a French Bulldog and a cat called Meredith.
Please note that Lauren's area of expertise is cat and dog nutrition so we appreciate your questions relating to these two species only.
She is a fully qualified Veterinary Nurse and gives daily (both general and very specific) advice relating to food and feeding. While she may have a general view on other areas of veterinary nurse care and practice, we appreciate that your vet is the best placed to give you specific advice.
Before major changes are made, please be sure to seek advice from your veterinary practice staff who have an active working knowledge of your pet, it's medical history and any investigations made into their health status.
Don't miss out on the opportunity to ask your questions. Come and be a part of the conversation!