How much should I feed my pet?
Every ROYAL CANIN® diet has a feeding guide based on the age, weight and activity of your pet.
Growing puppies are to be fed the amount recommended for their expected adult bodyweight as indicated on the product's feeding guide.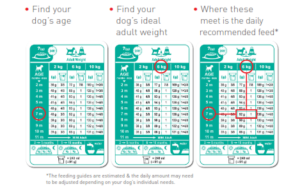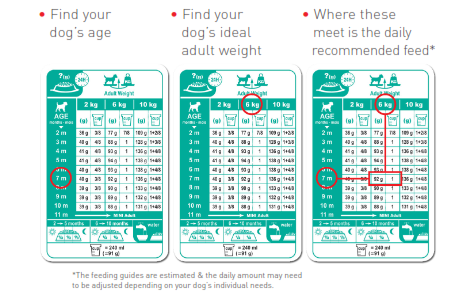 It is important for all pets to have regular weight checks, but particularly for large and giant breed dogs. Their food intake needs to be monitored closely and adjusted if required to help maintain a safe and steady growth rate and to avoid the possibility of any excess weight gain.
If you are unsure about what your pet's expected adult bodyweight will be, your vet would be the best person to advise on this when you take your pet in for their initial puppy/kitten health check.
Use an appropriate weigh scale and/or the specific measuring cup as annotated on the bag. Always ensure that you measure food very carefully. A small measuring variation when feeding cats and small dogs can significantly increase their calorie intake.
Once your pet is eating the diet completely, it is important to weigh your pet approximately one month later. Remember to record your pet's weight and body condition, and highlight any changes to ensure you make appropriate adjustments in your pet's food intake based on your weigh-in records. (If you require any assistance with your weigh-ins and amounts to feed, please do not hesitate to contact your vet or specialist retail store.)
Did this answer your question? If not, contact us.