Which product to recommend?
Recommend a ROYAL CANIN® product appropriate to your puppy or kitten's specific needs. 
Visit www.royalcanin.co.uk/products/ to demonstrate your recommended product to your new owners.
If you have questions about the best nutritional recommendation for your new owners, speak to your ROYAL CANIN® Business Manager.
Your recommended product will be sent in both boxes. It is not possible to select a different product for each box, or for us to amend this should the owner change their mind at a later date. Please ensure you continue to make your recommendation clear to the new owner prior to them receiving our call, to avoid any errors in supplied product.
What happens now?
Write your breeder number and recommended product clearly* on the Recommendation Card

Remind your new owner to send us the SMS so that we can speak to them and send their Welcome Box before they collect their new puppy or kitten
*if recommended product is not clearly given on the card there is a risk that the product in the Welcome Box will not match your recommendation and the puppy or kitten will experience a sudden diet change
Feeding either of these products?
These products are not available in the Welcome Boxes so you will need to recommend the appropriate ROYAL CANIN® Size Health Nutrition Puppy product from our range as shown and feed this in the few weeks before collection.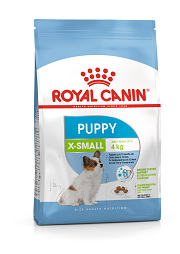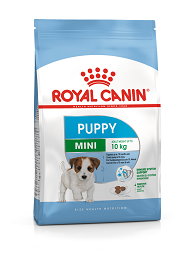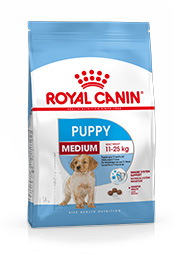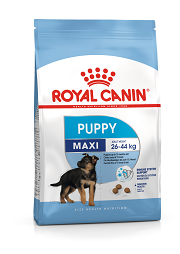 Let your owners know that the more tailored product is your longer term recommendation. They can then use their voucher for this product and we can advise them on how to transition.
What will new owners receive?
The importance of dietary consistency
Growth is a delicate time for the puppy or kitten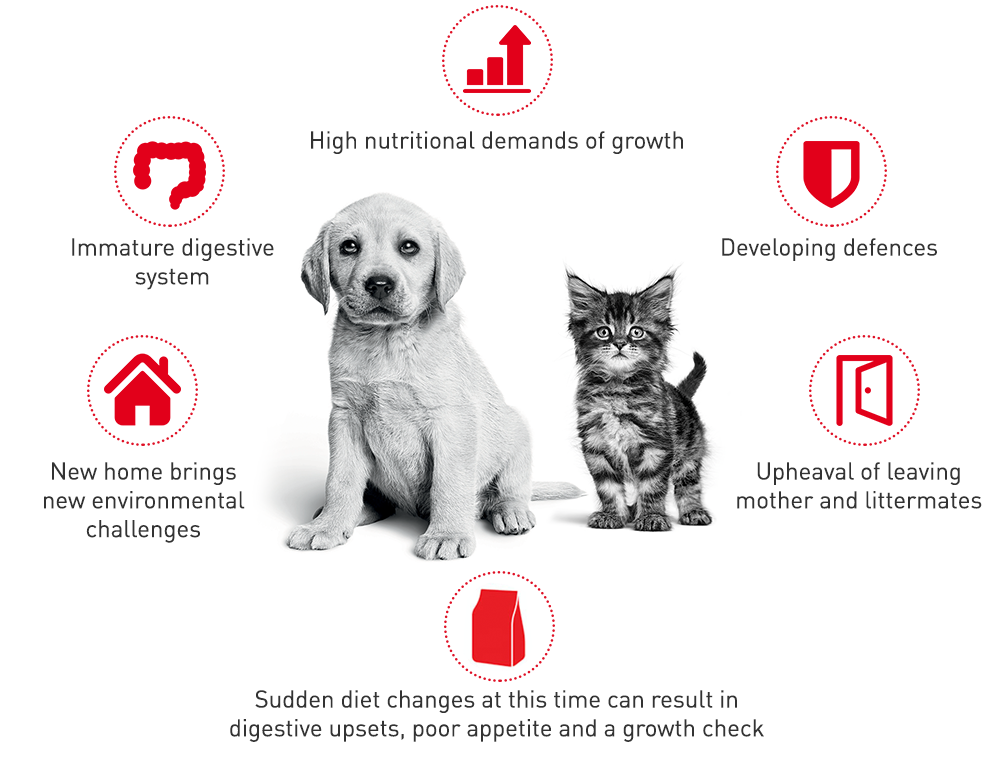 Why ROYAL CANIN®?
As a breeder, you have chosen to feed ROYAL CANIN® because you believe it is offers the best nutrition for your puppies/kittens:
animal first
At ROYAL CANIN® everything we do is for the cat and dog. We are founded on the principles of knowledge and respect. For over 50 years we have worked in partnership with breeders and vets to advance our understanding of the specific nutritional needs of cats and dogs, respecting their true nature and characteristics.
tailored nutrition
For us, each cat and dog is an individual. We consider age, size, lifestyle, sensitivities and breed to develop precise nutritional formulations tailored to different needs, helping to support optimum health and condition in each and every dog and cat.
Rather than simply building our foods from a list of ingredients we wish to use, our nutrient-led approach means that we precisely balance over 50 nutrients, each with its specific benefits, and then select the right high-quality raw materials to deliver these nutrients.
Visible performance
Feeding a great diet gives results you can see. Our knowledge of feeding preferences and palatability allows us to develop formulas that we know cats and dogs enjoy. After all, even the best diet is useless if it is not eaten! A high level of digestibility helps encourage a healthy digestive performance and good stool quality.
We believe that the right nutrition can be transformational, with visible benefits to skin, coat, body condition and ideal growth.
Value for money
Choosing the right diet for your pet represents a long-term investment and our tailored health nutrition formulas go beyond simply meeting basic nutritional requirements. But feeding a quality diet costs less than you think. Quality nutrition means high digestibility and smaller meals – a bag lasts longer and there is less waste too. All this means that feeding costs per day represent great value for money.
testimonials
Kirstie Forster, Megalmar Rottweilers
I found the new Puppy Pack a great idea because it helped me and the new owners to start getting things in place for the puppy to arrive to it's new home. The Puppy Packs are sent direct which means that the new owners are organised and have the food that we have been feeding in place for the puppy.
Malcolm Shovel, English Springer Spaniels
As a breeder, we know the benefits of feeding the right food. It is important that our puppies have the best start in life and that is continued in their rapid growth to maturity.
The Puppy Pack backs up our recommendation. By getting the pack to the new owner, before they pick the puppy up, they have the information on the food they will be feeding. They are supported in finding a supplier and getting the bags of food ties them into the benefits before they even have the dog. The blanket is useful as we always ask them to bring something we can leave to get the smell of the litter. It also means the puppy is starting to have its own things. The Puppy Pack helps reinforce our rhetoric to ensure the puppy gets the best start. It has been well received by all of the owners from our last litter.
Clara De Dios, Nandinakatts
We as a breeder are extremely happy with the new Kitten Packs. It gives the new owners something else to look forward to while they are waiting for the kitten, which makes them even more excited to send the text and wait for what they get. The Kitten Pack is really cute and useful with the food and toy etc in it instead of an envelope with vouchers that no-one was using. Some of the new owners are even using the box for the kitten to play in, a much better idea than the previous one and a much more useful pack.
Julie Anthony, Sharamka Chihuahuas
ROYAL CANIN® comes up trumps again, with the introduction of the 'Puppy Welcome Packs'. It's an ideal pack for my Chihuahua pups, with the new owners receiving a puppy guide book, Educ treats, puppy booklet, blanket and a 1kg bag of Mini Junior. If that is not all, on registering the puppy with ROYAL CANIN® the new owner then receives a free 2kg bag of food from their nearest pet shop and a further 'money off voucher'.
My new owners loved the packs and the puppies loved them too.
Pauline Leonard, Wynrita Golden Retrievers
I felt they were an improvement on the old packs, especially as the new owners are able to have the food before they get their puppy. The packs were more attractive to look at and ROYAL CANIN® getting in touch with the new owner is a nice touch.
Colin Wadell, Riqitta Irish Setters
The new Puppy Pack has been very well received by our new puppy owners. All of the new owners applied for the Welcome Pack by sending a simple text and have been delighted to receive ROYAL CANIN® food, vouchers and a gift. The pack was delivered within a few days. It's a great support to breeders like us who have used the product for many years and recommend new owners to continue to use the product. We now highlight the Welcome Pack in our new owners manual.
Chris Johnson, Choriand Golden Retrievers
Both me and my new puppy owners were delighted with the new Puppy Packs. They enabled the owners to be ready for their new babies and received all the help they needed from ROYAL CANIN® staff.
Carole Ash, Jococa British Shorthairs
The new kitten packs are fantastic. New kitten owners have been really happy with the taster sample packs of food and the vouchers – and the boxes have been a huge hit with the kittens!