Healthy skin and coat omega 3 & 6
Helps maintain coat beauty particularly due to Omega 3 & 6 fatty acids.
Maintains ideal weight
Helps maintain ideal weight.
Healthy urinary system
Helps support a healthy urinary system.
Composition
Meat and animal derivatives, cereals, fish and fish derivatives, oils and fats, derivatives of vegetable origin, vegetable protein extracts, minerals, various sugars. Crude ash: 1.3%. Crude fibre: 1.1%. Crude oil fats: 3.7%. Moisture: 78%. Protein: 12%.
Additives
Vitamin D3: 95 IU, E1 (Iron): 12mg, E2 (Iodine): 0.34mg, E4 (Copper): 2.7mg, E5 (Manganese): 3.9mg, E6 (Zinc): 39mg.
Water should be available at all times.
You should feed approximately per day*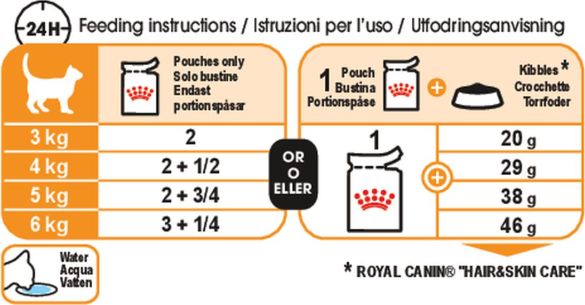 * Feeding amounts should be adjusted to suit your individual pet, based on their body condition score and other factors. Please consult your vet for further advice.