Vitality complex
Formulated for cats without obvious signs of ageing. Contains an antioxidant complex (vitamin C, vitamin E, lutein, taurine) that helps neutralise free radicals. Helps maintain kidney function with a moderate phosphorus content. Provides selected proteins that contain branched chain amino acids (for an ageing muscle mass).
Digestive health
Combination of highly digestible proteins and prebiotics to help support digestive health.
Composition
Meat and animal derivatives, cereals, derivatives of vegetable origin, vegetable protein extracts, oils and fats, minerals, yeasts, various sugars, molluscs and crustaceans. Crude ash: 1.3%. Crude fibre: 1.6%. Crude oil fats: 4%. Moisture: 80%. Protein: 8.5%.
Additives
Vitamin D3: 390IU, E1 (Iron): 3.8mg, E2 (Iodine): 0.1mg, E4 (Copper): 0.7mg, E5 (Manganese): 1.2mg, E6 (Zinc): 11.5mg.
Water should be available at all times.
You should feed approximately per day*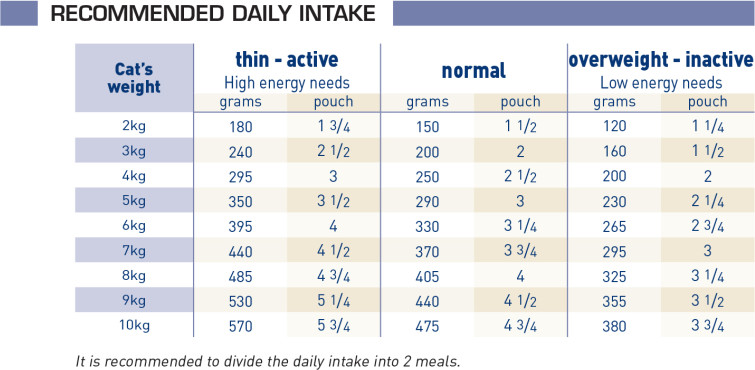 * Feeding amounts should be adjusted to suit your individual pet, based on their body condition score and other factors. Please consult your vet for further advice.