Renal workload
Inadequate kidney workload may induce ureamic crisis. An adapted content of high quality protein helps reduce kidney by reduction of the generation of nitrogen waste products, which accumulate in body fluids.
Metabolic equilibrium
Chronic kidney disease can lead to metabolic acidosis. Formulated with alkalinizing agents.
Appetite preference
A specific aromatic profile allows for differences in individual preference, because cats with CKD are more likely to develop inapprentance or food aversion.
Composition
Chicken meats, pork meats, wheat flour, sunflower oil, corn flour, minerals (including Calcium carbonate, Potassium citrate, zeolite), cellulose, fish oil, taurine, D-L methionine, fructooligosaccharides (FOS), marigold meal (rich in lutein), trace elements (including chelated trace elements), vitamins. Crude ash: 1%. Crude fibre: 1.2%. Crude oil fats: 6.5%. Moisture: 77.5%. Protein: 7.5%.
Additives
Vitamin D3: 275IU, E1 (Iron): 4mg, E2 (Iodine): 0,11mg, E4 (Copper): 0,9 mg, E5 (Manganese): 1,4mg, E6 (Zinc): 14mg.
Water should be available at all times.
You should feed approximately per day*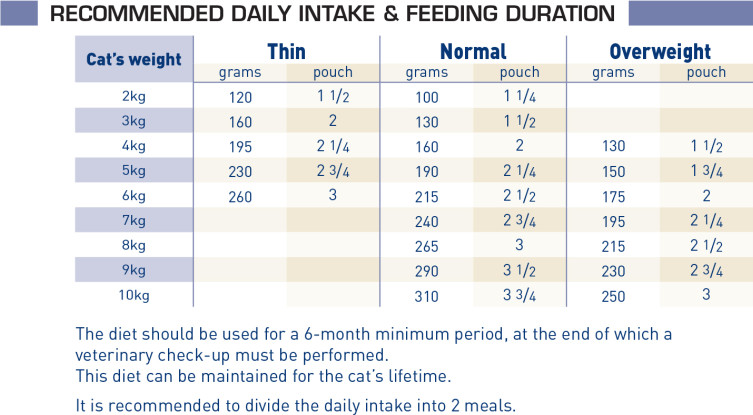 * Feeding amounts should be adjusted to suit your individual pet, based on their body condition score and other factors. Please consult your vet for further advice.