Idiopathic cystitis
The high moisture content of Urinary S/O Feline cans increases urine dilution. Since nearly 64% of cases of FLUTD* are idiopathic cystitis, a wet diet is recommended for cats with recurrent cystitis.
Struvite dissolution
Urinary S/O Feline effectively dissolves struvite uroliths.
Low RRS
Low RSS (Relative Super Saturation) diets encourage an undersaturated urinary environment, unfavourable to the development of struvite and calcium oxalate crystals.
Urine dilution
Diluting urine decreases the urinary concentration of struvite and calcium oxalate crystals. Greated urinary volumes also ensures regular bladder wash-out.
Composition
Beef meats, pork and poultry meat, pork liver, corn flour, egg white, sunflower oil, cellulose, fish oil, minerals, taurine, crustacean hydrolysate (source of glucosamine), marigold meal (rich in lutein), trace elements (including chelated trace elements), vitamins. Crude ash: 1.5%. Crude fibre: 0.6%. Crude oil fats: 5%. Moisture: 80%. Protein: 7.5%.
Additives
Vitamin D3: 260IU, E1 (Iron): 2mg,E5 (Manganese): 0.6mg, E6 (Zinc): 6mg. Pentasodium triphosphate: 1.3g.
Water should be available at all times.
You should feed approximately per day*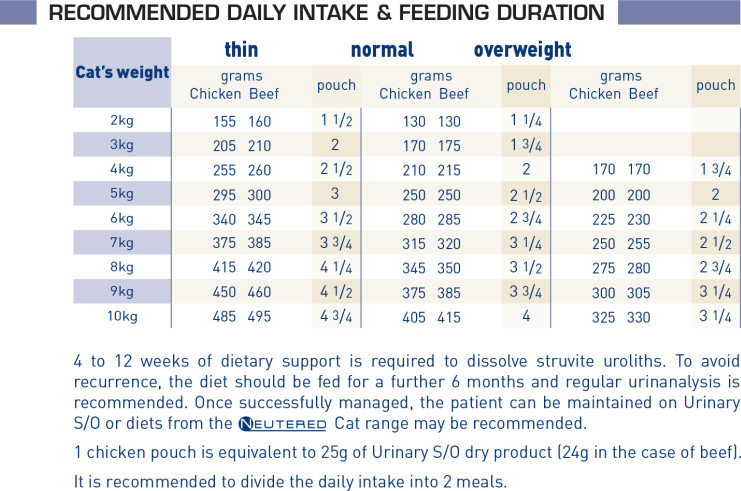 * Feeding amounts should be adjusted to suit your individual pet, based on their body condition score and other factors. Please consult your vet for further advice.