Hydrolysed protein
Soya protein hydrolysate, which is composed of low molecular weight pepties, is highly digestible and of very low allergenicity.
Skin barrier
Specially formulated complex of nutrients targeting the reduction of water loss through the skin to strengthen the barrier effect of the skin.
EPA/DHA
Enriched with linoleic acid, EPA and DHA, essential and non-essential fatty acids known to modulate cutaneous reactions and help maintian skin health.
Antioxidant complex
The synergistic antioxidant complex helps neutralise free radicals.
Composition
Pea starch, soya protein hydrolysates, sunflower oil, cellulose, fish oil, minerals, hydrolysed chicken liver, lecithin, taurine, marigold meal (rich in lutein), trace elements (including chelated trace elements), vitamins. Crude ash: 6.3%. Crude fibre: 7.8%. Crude oil fats: 13.7%. Moisture: 74.5%. Protein: 23.5%.
Additives
Vitamin A: 5000IU, Vitamin D3: 340IU, E1 (Iron): 25mg, E2 (Iodine): 2mg, E4 (Copper): 6mg, E5 (Manganese): 32 mg, E6 (Zinc): 120mg. Pentasodium triphosphate: 3g.
Water should be available at all times.
You should feed approximately per day*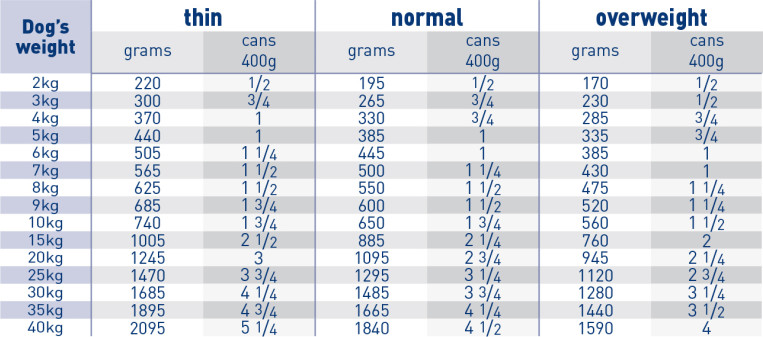 * Feeding amounts should be adjusted to suit your individual pet, based on their body condition score and other factors. Please consult your vet for further advice.