Digestive support
Highly digestible formula (including hydrolysed proteins) to help support digestive health.
High energy
Very high energy density which provides daily energy requirements in a reduced feeding volume.
Complete nutrition
Complete and balance liquid diet to support nutritional restoration and convalescence of dogs requiring assisted enternal nutrition.
Antioxidant complex
The synergistic antioxidant complex helps neutralise free radicals.
Composition
Milk and milk derivatives, cereals, oils and fats, derivatives of vegetable origin, minerals. Highly digestible ingredients: low-lactose milk, caseinate, hydrolyzed whey protein, maltodextrin. Crude ash: 1.4%. Crude fibre: 2%. Crude oil fats: 7%. Moisture: 77.9%. Protein: 9%.
Additives
Vitamin A: 3660 IU, Vitamin D3: 280IU, E1 (Iron): 28.5mg, E2 (Iodine): 0.7mg, E4 (Copper): 2.7mg, E5 (Manganese): 2.4mg, E6 (Zinc): 42mg, E8 (Selenium): 0.14mg.
Water should be available at all times.
You should feed approximately per day*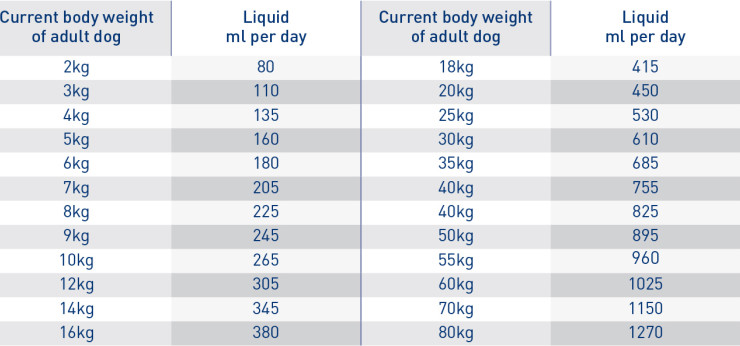 * Feeding amounts should be adjusted to suit your individual pet, based on their body condition score and other factors. Please consult your vet for further advice.