Digestive Health
Complete wet food for dogs - for adult small breed dogs(from 1 to 10kg) from 10 months to 12 years. Highly digestible, modearate energy content and Omega 3 EPA and DHA for skin and coat condition
Adapted Energy
Supports digestive health and balance of intestinal flora.
Coat Condition
Helps maintain ideal weight in small breed dogs.
Composition
Meat and animal derivatives, cereals, oils and fats, derivatives of vegetable origin, minerals and various sugars Crude ash: 1.6%. Crude fibre: 1.1%. Crude oil fats: 5.5%. Moisture: 81%. Protein: 7.5%.
Additives
Vittamin D3:150 IU, E1 (Iron): 6.5mg, E2 (Iodine): 0.2mg, E4 (copper): 1.7 mg E5 (Manganese): 2mg, E6 (Zinc): 20mg
Water should be available at all times.
You should feed approximately per day*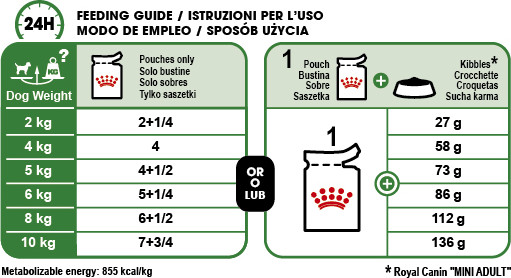 * Feeding amounts should be adjusted to suit your individual pet, based on their body condition score and other factors. Please consult your vet for further advice.