STRUVITE DISSOLUTION
Helps dissolve all types of struvite stones.
URINE DILUTION
Urine dilution makes the urine less liable to form struvite and calcium oxalate stones.
LOW RSS
Helps lower the concentration of ions contributing to crystal formation.
Composition
Meat and animal derivatives, cereals, oils and fats, vegetable protein extracts, derivatives of vegetable origin, minerals, various sugars. Crude ash: 0%. Crude fibre: 1.2%. Crude oil fats: 0%. Moisture: 0%. Protein: 8%.
Additives
Vitamin D3: 210 IU, E1 (Iron): 3.5 mg, E2 (Iodine): 0.25 mg, E4 (Copper): 2 mg, E5 (Manganese): 1.1 mg, E6 (Zinc): 11 mg, Urine acidifying substances: calcium sulfate: 0.25%. Technological additives: (acidity regulator) sodium bisulfate: 1.107 g.
Water should be available at all times.
You should feed approximately per day*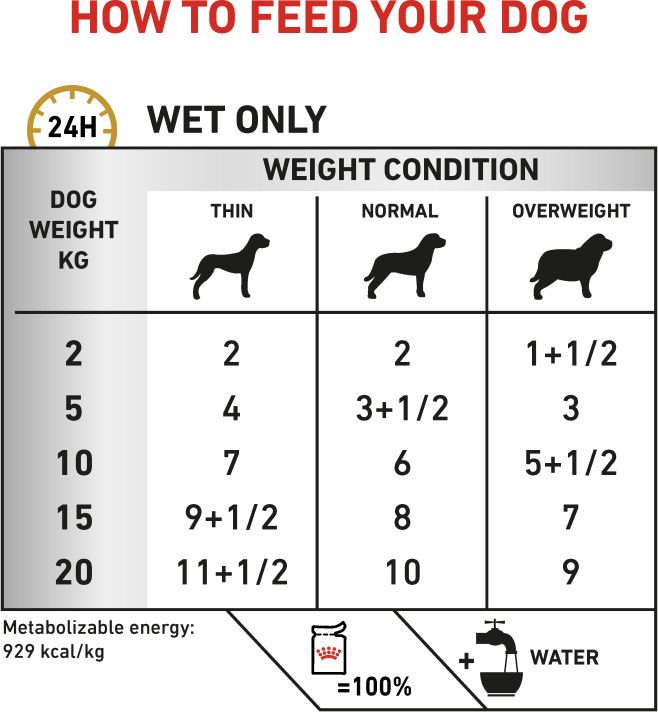 * Feeding amounts should be adjusted to suit your individual pet, based on their body condition score and other factors. Please consult your vet for further advice.